Cheers, and welcome!
Beer Busters is a craft beer and homebrewing focused podcast and online magazine based in the greater Philadelphia area. The podcast was founded in May of 2013 by brothers Dan and Wayne Baker and their cousin, Steph Heffner. What began as a humble, semi-regular show featuring the three of us (except Wayne in Episode 1) chatting about and sipping on craft brews, has grown into a bi-weekly podcast featuring guests from craft beer enthusiasts and homebrewers to members of the craft beer industry including commercial brewers, brewery reps and owners.
We've also built an extensive online news and reviews outlet here at BeerBustersPodcast.com, reporting on industry news and events as well as regular beer reviews and brewery and brewpub features. Occasional opinion and informational pieces appear and, as we keep growing and expanding our scope, Beer Busters will continue to be a go-to source for news, info and entertainment for everyone from the casual beer drinker to the super-obsessed, mad-scientist brewer.
Who Are the Beer Busters?
Dan Baker | dan@beerbusterspodcast.com
Co-host, Producer, Audio Engineer
Dan Baker is a resident of Philadelphia who is deeply engrossed in the audio world. Having worked in radio since 2008, it is no wonder why he started this podcast with his two co-hosts. Currently he works for SiriusXM Satellite Radio, and has previously worked for legendary local radio station WMMR. When not recording Beer Busters, Dan does voice work on the side. Clients have included IKEA, AT&T, DeerPark, and various local universities and businesses. While cousin/co-host Steph is a diehard Bruins fan, Dan happily roots for the Flyers. Dan enjoys listening to music, playing video games, and describing beers as "smooth".
Dan is the obligatory "radio-guy" on the podcast. His experience on both the production and on-air sides of professional radio have elevated the podcast beyond "garage-band" status with his meticulous attention to detail as sound technician, editor and audio artist. The idea of Beer Busters was birthed by Dan, and he occasionally writes articles too.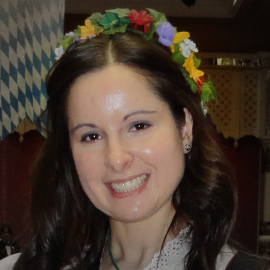 Steph Heffner | steph@beerbusterspodcast.com
Co-host, Brewologist, Booking/Networking Producer
Steph Heffner is an avid homebrewer and member of the Berks Homebrew club. She is a graduate of the American Brewers Guild in the Craft Brewers Apprenticeship program and enjoys reading any and all books on brewing. With a love of traveling (and, of course, craft beer), she has visited just about every brewery in Pennsylvania as well as several across the U.S., working to increase her unique check-ins on Untappd. In all her travels Steph has amassed an extensive collection of over one hundred unique growlers.
Beyond her clear passion for all things craft beer, she plays the flute and piccolo for a local band. She has two kitties, Manny and Jack, and has been married to her designated driver, Rich, since 2005. Steph is the brains of Beer Busters with her extensive knowledge and experience of brewing and beer. She also is the most prolific writer of articles on the Beer Busters website and serves as the chief guest booker and works tirelessly to network on behalf of Beer Busters in the craft beer world.
Wayne Baker | wayne@beerbusterspodcast.com
Co-host, Creative/Marketing Designer, Webmaster, Video Production
A beer drinker since age 21 and craft beer drinker since a fews years later, Wayne was a late comer to the podcast. After being recruited to do some graphic design work, he sat in on the second episode and had such a good time he never left. He currently resides in Reading, Pa and his hobbies include drinking beer and plotting world-domination.
To pay the rent, Wayne has worked in the restaurant industry for over a decade. He has been doing graphic and web design and digital art freelance and as a hobby for even longer and also has an extensive background in computer technology and varying degrees of coding experience. He designs all the Beer Busters graphic materials as well as marketing copy, maintains the Beer Busters website and other digital resources, and thoroughly annoys Dan and Steph by nagging them to conform to technical standards. He writes articles for the website, though not as often as he'd like. spending most of his time serving as chief editor, technician for anything beyond audio (that's Dan's gig), exploring promotional opportunities and being generally goofy on social media.